About
Designs of the technology that are special:
2 baffles forcing the heat and smoke to pass the fire box. (There can be more or less than two baffles.)
The 2 baffles create a back pressure that causes all combustion to happen in the fire box and not in the chimney.
Added safety due to reduced chimney temperatures.
Automatic 2 speed blower. The blower will turn from low to high and then high to low automatically. Saving electricity and not causing the stove to cool off to fast from to much air or over heat from not enough air cooling the stove off.
Easy door mechanisms.
The stove has a cylinder shape. A square or rectangular stove has corners. Corners create hot spots, poor combustion, bad baffle positioning and require more wood only to produce less heat. Think of inflating a balloon inside a square box and where will it touch first?
Transfer of heat. Look at Dakota stove and look at the "squares". For example look at Dakota Stove, as much as possible is enclosed for the air to blow over the stove(even 6 inches of the chimney has air blowing over it. Square stoves have only a few sides with the air blowing over them. E.S.F.B.A. Technology puts more heat in your space, with less fuel.
Easy ability to pass EPA testing and UL testing.
With further understanding of how Dakota Stove works(with E.S.F.B.A) and how it is better than anything being built, a person will never buy a square stove again.
Remeber, Dakota Stove is only using 1 type of fuel and is a indoor unit.
As for building a stove yourself, please remember that it is protected under patent pending status.
There are no other types of fuel a person can create on their own; harvest, haul, process, store and then burn.
Convection!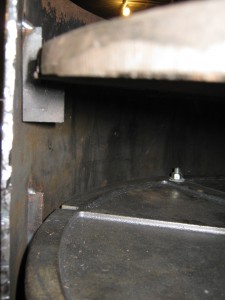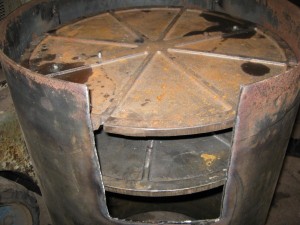 With convection, a hot gas or fluid has to contact a another surface before tranfering heat.  That is what the baffles do.  The surface area of the gap forces more heat transfer to the fire box and to the baffle. Did you know that the low temperature difference between the bottom baffle and the fire actually decreases the rate the fire burns? The concentrated area the smoke has to pass through reduces the over all temperature of a chimney, increasing safety!
Patent Pending
Round for a Reason LLC