Firebox Shape, Q & A
Some information is here in a Q & A format.
Q:   Can you show proof that Dakota Stove or something built with the patent is more efficient?
A:  Yes, I can.
Q: How can you prove it?
A: Using mostly the sciences of thermodynamics and heat transfer.
Q: First, why is the cylinder shape  so important?
A: Three reasons; conduction, convection, and radiation.  I would say that of the three, convection is the most important.
Q:  What is convection?
A:  Convective heat transfer, often referred to simply as convection, is the transfer of heat from one place to another by the movement of fluids. Convection is usually the dominant form of heat transfer in liquids and gases. (Wikipedia, http://en.wikipedia.org/wiki/Convective_heat_transfer) A usage of convection that is widely used is natural convection.  And the most common use is calling it natural draft or just draft.
Q: Draft, I have heard of that, it how a fire gets the air it needs to burn in a wood stove, right?
A: Yes, there is one important thing behind natural convection/draft.  That is gravity and it causes hot air to rise and cold air to fall.  I need to mention that with thermodynamics and heat transfer, a lot of things can be figured out with perfect shapes and conditions.  When the shapes and conditions are not perfect, you need complex differential equations.  I will only talk in general terms and let individuals research more on a subject if they choose to do so.
Q:  Yes, it makes sense, hot air in a stove goes out the chimney and that causes cold air to be drawn into the stove.
A: Yes, that is how it works.  But to take that idea farther consider this, the colder that air is outside, the better the natural convection/draft inside the stove.  Knowing that the speed of heat
(energy) transfer depends on the temperature difference between 2 objects helps understand why it is hard to get a wood stove started and to get it to run while the temperature is warm outside.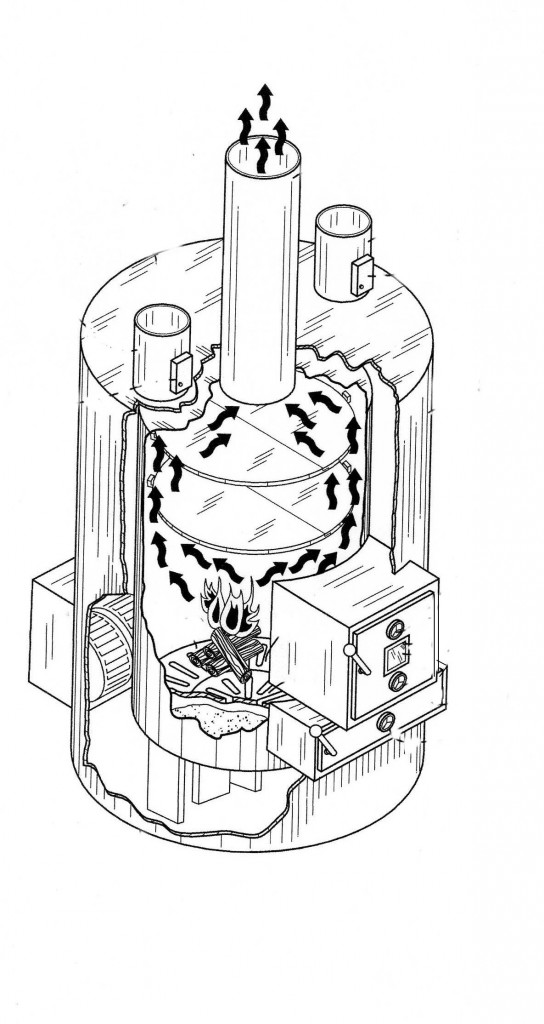 Patent Pending
Round for a Reason LLC